Remote access software and services are becoming increasingly popular for both businesses and individuals. There are many different types of providers, and types of this kind of software. One of the leading products is TeamViewer.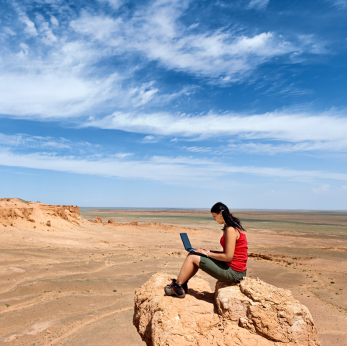 This is a product overview to help you see TeamViewer is a software package offering a few different uses. It enables remote access and remote desktop support as well as file transfers. TeamViewer allows this interactive access while still allowing the machines firewall and antivirus software protection.
Features of TeamViewer
TeamViewer can be used with Windows, Mac, and Linux and also has a version that may be used on iPhones. There is a mobile version that can be placed on a disk or USB stick, which makes this an efficient option for those that travel. TeamViewer's flexibility makes it useful in most situations.
Training videos, presentations, and demonstrations can easily be shared using TeamViewer. It also includes a status display so that team members can quickly find one another and communicate.
TeamViewer does not require each machine to have the software installed. This is especially helpful in customer support situations. The customer can run the program without installation, which allows the technician remote access in order to provide the support. The technician's workstation requires installation and a license.
How to Use TeamViewer: A simple primer
TeamViewer has a user interface and layout that is relatively easy to navigate. It shows the user whether the connection is secure along with the ID and password being used for the session. This password changes each time the user accesses TeamViewer.
In order to start a session with a partner, just three simple steps get it moving:
The User must enter the ID for the partner's machine.
At this point the user can choose whether to connect for remote support, a presentation, file transfer, or VPN. Choosing what kind of connection is desired allows the user to control how much access the partner has to his machine.
The user must then add his partner's current password, and sharing begins.
Cost of TeamViewer
TeamViewer can be downloaded from its website. Non-commercial customers can use the software without any cost. This is a good choice for family members and friends that would like to share files. Commercial customers can purchase a lifetime license.
There are three different options when choosing a commercial license. These are Business, Premium, and Corporate. The version 5.x Business license is $749, the Premium is $1,499, and the Corporate is $2,690.
Customers may also purchase additional channels and workstations. You may also choose to upgrade a license at any time.
TeamViewer does offer a seven-day money-back guarantee with purchase. All the commercial licenses include features such as file transfer, chat, remote support of unattended servers and computers, and multiplatform support. There are a few differences between the three versions.
Business – The Business license allows installation on one workstation, although additional workstation installation can be purchased. Each workstation can run three concurrent sessions. This is the least expensive commercial license and does not come with all the features found with Premium and Corporate.
Premium – The Premium license allows unlimited workstations and up to ten concurrent sessions from each workstation. This version includes multichannel routing. TeamViewer Portable, TeamViewer Manager, the MSI package, and the web connector are all also included with Premium.
Corporate – The Corporate license includes all of the features that come with Premium along with a few extra additions. Fifteen concurrent sessions are allowed per workstation. Three workstations can start sessions concurrently. Customers with a Corporate License also receive Priority support for one year.
Benefits of Using TeamViewer
There are a few common benefits reported when using TeamViewer.
This software is considered relatively easy to use for those that are just beginning to use remote access as well as customers with more experience.
Both the free and paid versions are known to be fast, and the ability to use it without full installation is a very nice feature.
TeamViewer prices are comparable to those of similar software.
TeamViewer is compatible with more operating systems and portable devices than most of the other remote access brands.
It has very good security. Each session has a unique password, and the user is alerted when someone is accessing the machine. TeamViewer also includes full encryption.
Cons of TeamViewer – What to Watch For
Like any software there are a few aspects of TeamViewer that customers may not prefer.
Commercial clients purchase a lifetime license instead of paying a monthly fee. This may not be a good option for customers that do not want to make a large payment or that would like the option to discontinue the software without taking such a large loss. The free version does lack many of the nice features found in the paid versions, but this is to be expected. There have also been some complaints that if someone with the free version connects with many other people, TeamViewer may become suspicious and limit access.
Overall, TeamViewer is a good product that is well-received in the marketplace. Remote access software is an excellent way to share data and provide support. TeamViewer is one of the most user-friendly of the remote access brands.