Currently, there are numerous software applications available to provide remote access to clients and employees. This software also allows individuals to control their home computers remotely. Secure remote access software provides its users with incredible flexibility in how they define their work environment.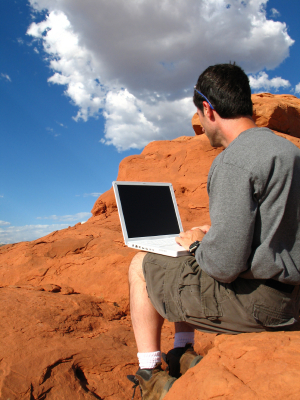 Clients may access their applications and files as long as they have access to the Internet through a web browser. A secure remote access connection is an ideal solution for employees who telecommute part-time or even full-time – and the businesses that hire them.
Compare Options for Secure Remote Access
GoToMyPC
GoToMyPC offers secure remote access to control the work computer from home or the home computer from work. Experts remark that the application performs well. Files can be synched from computer to computer, printed, and other tasks can be performed.
Free Trial: 30 days
Price Range: $17 to purchase
The first computer costs $20 per month and $30 per month for two computers. Each additional computer is $15 per month. Twenty-five percent discounts are offered for yearly subscriptions.
Desktop Central
Destop Central This particular secure remote access software includes user logon reports, asset management, software deployment, patch management, Windows system tools, and active directory. Multiple computers can be managed via a LAN or a WAN. Technicians and administrative functions may be supported remotely.
Free Trial: 30 days
Price Range: $545 to purchase
TeamViewer
This particular secure remote access software allows users to share their screen for remote meetings and file transfer application. Technicians may also help users determine their computer problems remotely. TeamViewer is free for non corporate use. Files can be sent and access rights may be controlled via this particular software. Remote access may also be disabled and the computer may be rebooted remotely. The software can control multiple monitor displays. VOIP, video conferencing, and teleconferencing are all included as a part of the remote access software. This particular software does not require software configuration.
Free Trial: Available
Price Range: Free
LogMeIn
Experts generally enjoy the use of LogMeIn and seem to be impressed with its capabilities. The application runs from your Web browser which may be different from its other competitors. Users may have to install a plug-in. On the remote computer, an emulator will be opened. The only disadvantage to this software is that it will slow down your CPU and browsing capability. This remote access software possesses dual passwords and encryptions for safety. Upgrades are necessary file transfer and file synchronization.
Free Trial: Free for multiple remote PCs
Price Range: $20 per month for 5 computers or $200 per year
WallCooler VPN
WallCooler VPN This particular software allows users to access remote files, network resources, and applications. Users will be able to use all Windows based applications remotely. Applications, such as Remote printing, MS Outlook, Windows Remote Desktop, or Windows File Sharing are each accessible through the remote software. Virtually any application can be accessed remotely. Databases, email applications, and other applications can be accessed from any place. This particular software does not require a complex Internet Security Infrastructure. The setup process for this particular secure remote access is simple and virtually maintenance free.
Virtual Network Computing (VNC) Free Edition
This particular secure remote access utilizes Java to enable you to access a remote computer via Web based computer. VNC supports Windows, Linux, Unix, and Solaris environments. The Web based application does not consume an enormous amount of memory. Broadband is preferred with VNC software. Users can log into a machine, while no one is logged onto the computer. Users can access this at home and for business. VNC may be used on a variety of platforms.
Over 2 million people have accessed this particular software. Most of the individuals who have used the software have favorable reviews about the secure remote access software.
Gbridge
Gbridge is a free secure remote access software that is offered by Google. The software application allows users to share files, sync folders and back up their files and applications remotely.
Unique Features:
Invite friends to collaborate on your desktop while viewing
View automated photo slide shows
Play MP3s online
Store remote backups of important files and folders
Applications and files accessible on multiple computers regardless of your location
Gbridge bypasses any firewalls and still allows privacy
Gbridge is simple to install and simple to use. If you are technically inclined, you can repair you friend's computer.
Price Range for Secure Remote Access
The price range for this type of software ranges depending upon the brand of the software, the number of computers covered and other factors. Many of the services charge by the month. A monthly charge for each computer will be accessed.
Compare to Other Options
According to CNET, TeamViewer and LogMeIn received the highest reviews from both experts and CNET users. TeamViewer is downloaded and used by more users. Currently, over 12 million users have downloaded and liked TeamViewer. LogMeIn only has nearly 1.2 million users. TeamViewer is free compared to a $200 annual fee required by LogMeIn.
Editors of CNET, however, still feel that LogMeIn is a useful piece of software.
Strengths of Securing your Remote Access
Secure remote access software is preferred because it allows individuals to complete tasks in a minimal amount of time. For instance, you may know a computer guru who would fix a computer problem for free. However, that person may be located 2,000 miles away. Secure remote access will allow them to log onto your computer and view your files, while locating the problem to your computer.
This software will also allow the person to telecommute and have access to their computer files at work or home without actually transporting the physical computer or saving files to a removable drive.
Challenges in Using This Type of Solution
The disadvantage of allowing other individuals access could breach your security if they are not trustworthy individuals. Other unauthorized users may also attempt to access your computer through this option as well. If they determine your password or authorization code, they will be able to view your files without being detected by virus software.
Purchase Locations
The software may be purchased online and within local software locations. Some of the websites offering secure remote access software are listed below:
• CNET: http://download.cnet.com/Gbridge/3000-7240_4-10877073.html
• Remote Access Software: www.GoToMyPC.com
• GoToAccess: www.GoToAccess.com
• Other Secure Remote Access Software:
http://compnetworking.about.com/od/homenetworking/tp/remoteaccesssw.htm
Popular Brands for Secure Remote Access Software
The most popular brands of secure remote access in terms of the number of downloads are listed below:
Free Trials or Discounts on Secure Remote Access Software
Most of the secure remote access software reviews offered here will offer some form of a free trial or may offer the software for free. Visit each respective provider's website to understand the details of each specific offering.